Have you ever been stuck in an airplane circling around your destination until it's safe to land?  An announcement comes on that says it's necessary to be in a holding pattern due to fog or air traffic. At first, you are okay with it, knowing that an experienced pilot is in charge. But after a while you become annoyed being stuck in the air. You start worrying about what could happen, and then you wonder when your plane will finally land safely.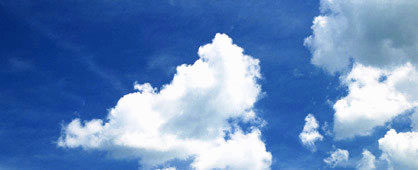 How often do you feel stuck in your own personal holding pattern?  Fear is a natural instinct when you feel unsure or confused.  Predicting an impending negative outcome or being uncertain about the future and resisting change can put you in a holding pattern. It's natural to be rational and to look at all angles of a future scenario. Sometimes, though, you fabricate a scene that ignites apprehension. This causes you to linger about in a cloud, and you stay there in your holding pattern, afraid to move or take any action.
Eventually, circling around and around in uncertainty and fear becomes uncomfortable.  When you feel like you are hanging around in the clouds for too long, that can be your signal to formulate strategies for finding a safe place to land. Consider what actions you may need to take in order to sort out  any confusions or conflicts. What information do you need to gather?
Sometimes you don't have the answers, so the key is to walk softly, one step at a time. This way you can discover the solutions as you go. Taking time to pay attention to each step helps you to recognize that the answers may be right in front of you or close at hand.
As long as there is no imminent danger  you can move forward beyond your trepidations by taking a moment to breathe. You breathe to center yourself. At your core is your goodness and strength. Sometimes you need to remind yourself of this. So take a deep breath to soften the tension and defenses around your core. Gently center yourself and proceed with courage to stand on solid ground.
Staying "real" is an ongoing process.  So, it's important to accept all that you are. Honor your stuck-ness, fears, imperfections, and worries along with your strengths and positive qualities.  Once you do that, you can genuinely find your way through your problems to solutions that feel right to you.